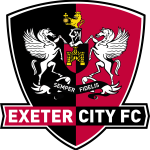 First Team Goalkeeper Coach
Exeter City Football Club seeks to ensure the safety, safeguarding and wellbeing of all children, young people and adults at risk who engage in its activities.

We are seeking to recruit an experienced First Team Goalkeeping Coach who will be responsible for implementing and delivering a training programme for first team goalkeepers in association with the first team management. Working within the first team environment you will provide clear leadership and support to players and staff through professional working relationships, helping create a high performing team in an elite sporting environment with strong community values.

This role is a really exciting opportunity for an experienced Goalkeeping Coach to join Exeter City Football Club and become part of our unique Club where the Exeter City Supporters' Trust proudly owns the majority shareholding of the Club with a philosophy for balancing on field success with long term sustainability and putting fan and community engagement at the heart of what we do.

Through our ownership model we have financial stability and opportunity to continue to grow and develop as we continue on our journey to achieve our aspirations both on and off the pitch. Our ethos has seen us achieve great results with our promotion to EFL League one we proudly started a new season feeling grateful for our achievements and focused on our future with our fans support driving the Club forward ensuring the passion and hard work continues.

We are very proud to have a reputation as a family and community club and this is something we achieve by our inclusive culture and continued commitment to our core values. As a Club we embrace the diversity of the city with our city centre location offering easy access to St James Park for all. Our academy and first team training facilities are based at our Cliff Hill Training Ground on the outskirts of Exeter and these facilities are currently undergoing significant investment as new office and player facilities are being built with completion scheduled for January 2023.

Candidates applying for this role must have a clear understanding of the industry demands and the discipline and determination required to become a professional athlete working within an elite sporting environment. As an experienced coach you will need to be a positive role model, leading, inspiring and energising others to achieve a common purpose. Exceptional communication skills and a persistent, patient approach is key. Candidates will need to be resilient, able to adapt and capable of building professional relationships.

A UEFA B Licence and UEFA B Goalkeeping qualification is essential and candidates must have experience of planning and delivering a coaching programme and leading and coaching players on a one to one and group basis. Candidates must not only be committed to developing and supporting players and staff but also committed to continuing a personal professional development plan.